Free A-kasse membership for students
Will you soon graduate or have just graduated? See special rule for new graduates here .
Get 5 years FREE membership of an A-kasse
The 5 A-kasser with most student members (see table below) all offer up to 5 years free membership for students.
If your education has a duration of fewer than 5 years, you thus can have free study-membership during all your study.
What will you get with the free membership?
1. Earn DKK 13,644:
If you have been member at least one year before you graduate you will from DAY 1 after finishing your education be eligible for unemployment benefits.
If you wait until graduation to become member you will have to wait one month in order to be considered eligible for unemployment benefits.
That's why we say that you can earn DKK 13,644 (This is equivalent to 1 month's unemployment benefits).
You will get a higher amount if you have dependent children.
You have dependent children, if you have the obligation to contribute to a child (or children) under 18 years who are staying in Denmark. Are you EU / EEA citizen, you are considered also as a parent if the child resides in an EU / EEA country.
If you have dependent children you can get DKK 15,648 pr. month in Unemployment benefits. If you don't have dependent children - then you can get DKK 13,644 pr. month.
2. Special membership offers for students
As a student member of an unemployment fund you also get a wide range of free offers, which both facilitate your study and strengthen your future career.
Genereally we recommend the following:
If you will graduate in less than 6 months you should apply for the membership type for graduates.
There is some difference among the A-kasser how early before graduation you can apply but the most A-kasser will register you as member. It will be free for you until you graduate and you will also have fulfilled the 2-week deadline. Se more about that 2-week deadline under our section for graduates.
If you have more than six months but less than 1 year left before graduation you can apply for free study-membership. And it is good thing to do, especially if you of some reason have to postpone your study and therefor maybe can ending up to have been member for one year (=earning DKK 13,644).
If you have from 1 year to 5 year left of your study we will recommend you to apply for FREE study-membership. As mentioned you will have some benefits for NO costs.
How to apply for FREE study-membership?
Everything is done online. Use links shown below or just click on links/logos around our site, and you will be directed to online application form at the A-kasse's website.
If you are not directed directly to online application form, then at the A-kasse website choose menu often called "Bliv medlem" or "Tilmeld dig her".
If possible choose membership type only for students (in danish "medlem som studerende" or "GRATIS studiemedlemskab"). If not possible to choose, just remember to mention in your application form that you are applying for FREE study-membership.
After have filled out the online application form you will receive mail-confirmation from the A-kasse.
Which Unemployment fund (A-kasse) to choose?
The 5 A-kasser with most student members (see table below) all offer 5 years free membership for students. For full info use link "Read more..".
*Lønsikring = possible to buy additional insurance. With lønsikring you can be covered for up to 90% of your salary.

In Denmark you are free to choose which fund (A-kasse) you wish to belong to, but many people choose the fund that is traditionally associated with their degree course. The funds that students most often choose are: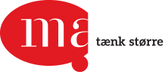 MA A-kasse - A general A-kasse for people with high education or people studying. Covers many different studies/degrees, but specializing in the humanities, natural sciences, social sciences, IT, communications, health, psychology and pedagogy.


Min A-kasse - is open for anyone, regardless of study. Because of their tight cooperation with PROSA (the Union for IT professionals) "Min A-kasse" has many members among people who studies or are educated within IT. Has high member satisfaction and few complaints.


CA A-kasse - Mostly for "business-students", but is open for everyone regardless of study.
CA covers many diciplines within business, but specializing in Management, Finance, Communication, HR etc.


FTFa is the choice for many students from "Academy Profession Programmes" or "Professional Bachelor Programmes".
FTFa work together with about 60 different professional organisations and/or Unions and therefore they cover many different professional fields.


Akademikernes A-kasse. Traditionally for students within engineering, law and economic. To become member of Akademikernes you must study on University or similar level of institution. It's an A-kasse only for academic students. Many of the members work in the public sector.

Get other advantages as students
As a student you have the possibility for a number of good deals related to your Unemployment Fund (A-kasse) membership.
We constantly examining the offers we believe are most relevant for you as a student - it may, for example be a cheap student-insurance, an favorable bankcredit, discount on study books, free Trade Union and other things.
We have compiled the best deals and promotions in an overview (currently only in danish) - see them here.
Are you turned 30 and started/not finished with your education?
If you are 30 years or older you can still get free membership of an A-kasse, BUT there are som extra restrictions/conditions.
In this case we recommend that you contact you A-kasse of choise, OR apply for part-time insured membership (payed, not free).
Apply for part-time insured membership and earn DKK 9,000.
If you are student and over 30 years old, you can instead of apply for free membership apply for paid part-time insured membership.
In this case you have to apply at latest when you have one year left of your study.
Your membership as part-time insured will cost about 374 DKK/month. Or for one year about DKK 4,488 (The amount is tax deductible). This price is offered by MA A-kasse, which is open for all students regardless of study.
If you get unemployed/not get a job right after finishing your study, then you will be eligible for unemployment benefits from DAY 1, and you will not have to wait one month to get your first payment of unemployment benefits.
This way you get DKK 13,644 (if you have dependent children DKK 15,648), but since you only have paid DKK 4,488 you will have earned about DKK 9,000.
This method is full legal and is also recommended by the A-kasser themselves on their websites.
More info:
Studyindenmark.dk
More about A-kasse membership
Themes about A-kasser